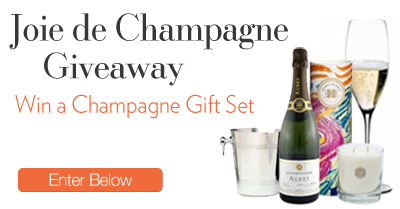 Welcome, mon amis, to Henri's Reserve and the secretive world of Family Estate Champagnes. We cater to those looking to indulge in the luxuries of life – that's why we are hosting the Joie de Champagne Giveaway. Win a $75 American Express Gift Card, Champagne Bucket, 12 Champagne Flutes, and a Linnea Lights Candle!
Entering is easy. Simply earn entry points via the Rafflecopter widget below! (Must be 21 or over to enter.)
The more points you earn, the bigger the chance to win!
We look forward to sharing news of my exquisite Champagne discoveries, entertaining tips, special "Friends of Henri" offers and my oh-so witty musings (I write smiling).

Santé,
About Family Estate Champagnes

Family Estate Champagnes are the new darlings of the wine critics and are featured on the wine lists of the world's most celebrated restaurants (French Laundry, Per Se, Gary Danko, NOMA, etc...). Unlike mass produced Champagnes that make millions of cases a year (e.g. Veuve Clicquot, Moet), the Family Estate Champagne on our site reflect the terroir of France's finest private estates, the artistry of the winemakers, and the legacies of the families behind them. (See our site for exquisite Champagnes, entertaining tips, tasting kits, Champagne Clubs, Gift Certificates and more.)